Descriptions:
This product has excellent initial luminescent brightness, long luminated time, and extremely good antiweathering.It can be plotter cutting, and also good for silk screen, inkjet printing on surface. The material is Non-toxic, non-radioactive and has satble chemical properties.
Application: Fire security signs, Safety guide signs, Marine safety signs, Identify usage,etc.
Features: This product is easily operate to brighten the light.The common roomĄ¯s light,sunlight can be as the brighten lights. Normally, take it in natural light,it can lastly glowing in the dark more than 10 hours. It can be used repeating and donĄ¯t need any electric power. The product can resist more than 7 years in outdoors, 20 years inside. It has good anti-corrosiveness, and abrasion resistance.


Luminated time: 6,12,18,23 hours.
Type: Acrylic or PVC
Adhesive: Pressure sensitive (PSA)
Roll size as follows
Width: 1.22 meters
Length: 41 meters
Packing: carton

LEMON STAR VIDEO DEMO
----------------------------------------------------------------------------------


Luminous film glowing sheeting test at night with flashlight


Samples show in following.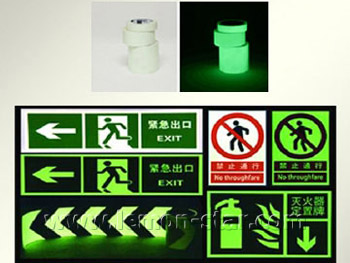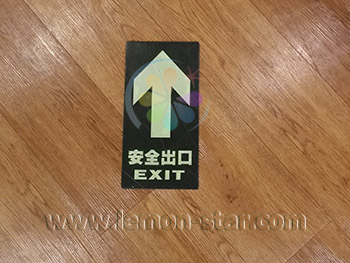 Beside this, we also provide photoluminescent powder, It can used in watch, clothing and so on.
Samples show in following.